In June, 2016 he joined SFGG hospital (Trust hospital located in Vatrak, Aravalli, also known as Vatrak Hospital )to serve and help poor and needy people.
He worked there for almost three years and performed more than 3000 trauma surgeries and 50 joint replacement surgeries. (Around 70-80 surgeries per month and 100 OPD patients per day).
In between for one month in July , 2017 he went to Seoul, South Korea and learnt the foreign art of joint replacement surgeries(Especially Shoulder replacement) with Dr. Yang Su Kim.
Since March 2019, he shifted back to Ahmedabad. Since then he is working as a consultant Joint Replacement Surgeon in various corporate and private hospitals in Ahmedabad. He also visits Shree Harikrishna hospital in Dholka and Aastha hospital in Bareja.
Right now apart from ORTHOD Hospital , he is mainly associated with Global, SGVP and SAL Hospital.
He also operates patients having insurance and MA/ PMJAY card in various hospitals.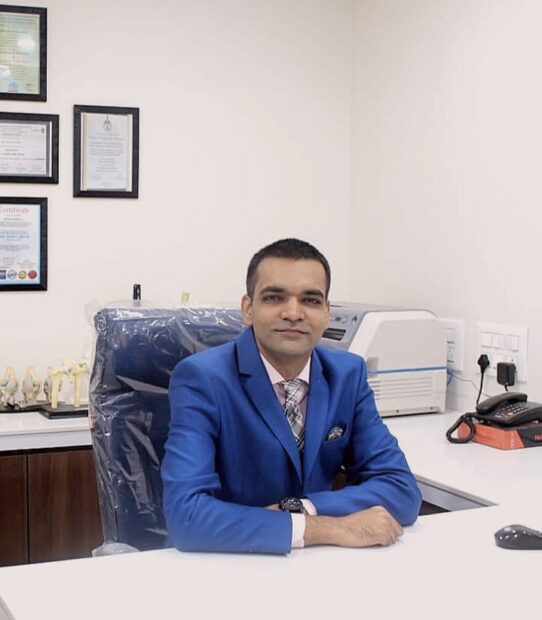 Dr. Ruchir Patel did knee replacement surgery for both knee joints for one of my relatives. Got very good results. She is pain-free now. Ortho-D hospital is with very well equipped, spacious & well parking space. Thanks to Dr. Ruchir Patel & Ortho D Hospital team.
Awesome experience with both the doctors, well experienced and talented. Have treated my husband twice and got very successful results, will recommend everyone to treat with Dr. Ruchir for any ortho-related treatment, and for dental Dr. Urvi is best!!
Amazing experience, The services that I receive from Dr. Ruchir Patel and Dr. Urvi Patel are excellent. Doctors and the staff are friendly and ensure that I am properly informed about my health and care. I would have no qualms in recommending them to friendly.
Excellent Hospital. Doctor was available right away upon our arrival. They addressed all our needs. My grand father had knee replacement done and he is very happy. I would strongly recommend to go to this hospital for any orthopedic or dental work need..
Fantastic hospital with supporting staff and well experienced doctors. hospital is well managed and taking care of patients like our family. Perfect advice and perfect treatment people can get here. Hospital is clean and perfectly located.
Excellent doctor with an excellent team. Also, the rate is too reasonable. Dr has mastery in knee replacement surgery. Also, the nursing staff is cooperative. The cleanliness of the hospital is the cherry on the cake.
One of the Best Hospital For
Joint Replacement, Trauma & Dental Care
ORTHOD HOSPITAL is located in Memnagar, Ahmedabad with fully modular class 100 operation theatre.
We provides 24x7 emergency care for all types of accidental injuries.
Visit Our Hospital
209-211, Nobles Trade Centre, Opposite BD Rao Hall, Near Bhuyangdev Cross Roads, Memnagar, Ahmedabad, Gujarat, India 380052